PDR TOOLS

Paintless Dent Repair Tools
Seeking professional USA made PDR Tools, with a lifetime guarantee?.
Paintless Dent Repair Pick Tools and Brace Wires
PDR Lights
PDR Reflector Boards
PDR Tool sets
PDR Accessories
PDR Glue Pullers
PDR Training DVD's
403p PDR Tool set
Great set for the aspiring pro or a second set for a PDR Professional.
Stainless steel
Blade Tools for creases and sharp dents
Blunt Tips for hail and soft dents
Bullet Tips for intermediate and average dents
Brace wires for braced dents
Z bars for braced areas
Door Jamber
100 ct 1/2" Plugs
100 ct 1/4" Plugs
100 ct 5/16" Plugs
Step Drill Bit
Reflector Board
PDR Light
T-handle Glue Puller
Glue Sticks
Glue puller tab set
Window Protector
Window Wedge
PDR Hammer
3pc Hole Punch set
PDR Tool Tip Cap set
PDR Tool Bag
PRICE: $1295
276pc PDR Set
A well rounded set complete with LED Light
A great set for those who want accessories and a LED lite with their PDR Tool set.
+ SLIDE HAMMER GLUE PULLER +GLUE PULL TABS +100 CT 1/2" PLUGS +100 CT 5/16" PLUGS + PDR TOOL CAPS + PDR HAMMER + 5 GLUE STICKS (NOT SHOWN) + PDR REFLECTOR BOARD + J HOOKS + BLADE TOOLS + HAIL / BLUNT TIP TOOLS + Z BARS + BULLET TIP TOOLS + WINDOW ACCESS TOOLS + LONG BRACE WIRES + SHORT WIRES + HAND WIRES + THIN, MEDIUM AND THICK WIRES + WINDOW WEDGE AND PROTECTOR + TAP DOWN + CANVAS TOOL BAG
PRICE: $1495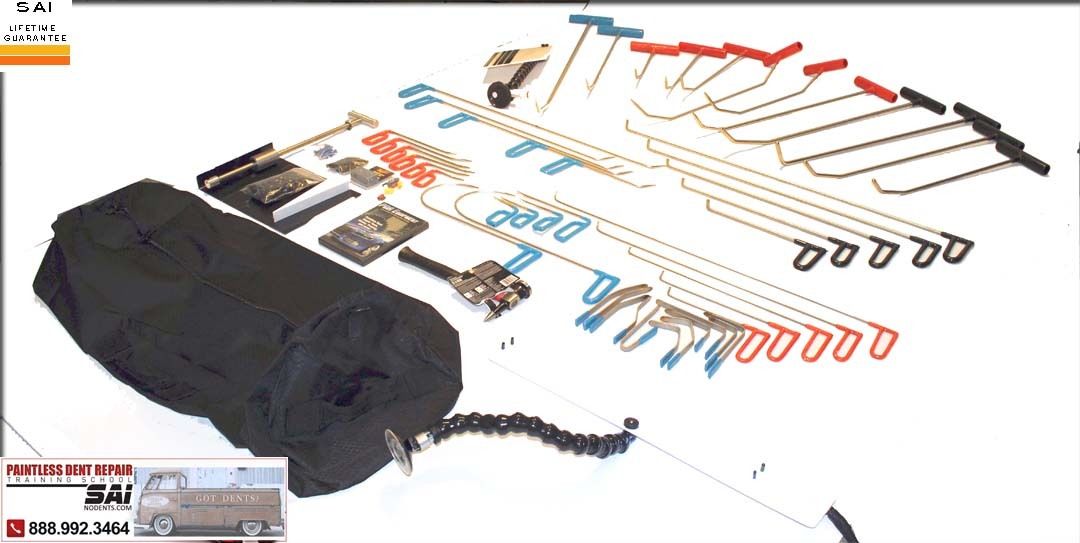 60pc Gold PDR set/LED/DVD
+ PRO LED LIGHT
+ J HOOKS
+ BLADE TOOLS
+ HAIL / BLUNT TIP TOOLS
+ Z BARS
+ BULLET TIP TOOLS
+ WINDOW ACCESS TOOLS
+ LONG BRACE WIRES
+ SHORT WIRES
+ HAND WIRES
+ THIN, MEDIUM AND THICK WIRES
+ WINDOW WEDGE AND PROTECTOR
+ HAMMER
+ 10 1/2" PLUGS
+ 10 TOOL CAPS
+ TAP DOWN
PRICE: $995