Paintless Dent Repair Pre-Training Program


Fact#1:
Paintless Dent Removal is an art, and as anyone will tell you-it takes time to learn the process and perform speedy and quality Paintless Dent Removal repairs. So naturally, ANY additional time spent on the craft in a structured and step by step fashion will of course bring the student along at an accelerated rate!..PRE-TRAINING!
Fact #2:
If you delay your instruction until the beginning of class you WILL have a disadvantage over the other students who have Pre-Trained.
Fact #3:
A trainee who has Pre-Trained not only enters the market faster, but with greater confidence, skills and speed, which means better opportunities!
Fact #4:
Pre-Training is available for all of our students for the price of $NOTHING ! (Free).. with our Deluxe Training course. Why? Pre-training aides us as well as the student. We can take a student much farther along and concentrate on the core topics rather than the introductory ones, saving everyone time and money in the end. Your complete success is our goal.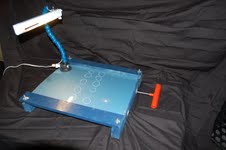 Included in the Pre-Training Kit:
1) SUPERIOR Paintless Dent Removal Pre-Training System
2) Pre-Training Private Video
3) PDR Hammer
4) Paintless Dent Removal Pick Tool
5) Paintless Dent Removal Tap down
6) Paintless Dent Removal Mini lite w/suction cup
7) Grease pencil


888.992.3464
949.497.2380