PAINTLESS DENT REPAIR Training Testimonials
Dent Repair TRAINING PROGRAM
We at Superior believe our Paintless Dent Removal course is only as good as the last student to leave one of our facilities.
"Pulled my first dent in training with these tools, and referred 3 guys to you - they loved them too" - Jack Thomas - Mesa, AR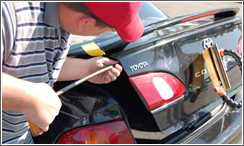 Just wanted to forward my e-mail address to you for future use. I would also like to take this opportunity to thank Brian, Les and Rich for all they have done. Thanks for working extra hard and jumping through all the hoops to get me out here on such short notice. You guys run a top notch organization, and I am delighted that I had the chance to attend it. If in the future you need a reference for a prospective student, please do not hesitate to give them my contact information. I look forward to speaking with everyone in the future.

Brian Wilkerson
Indiana, KY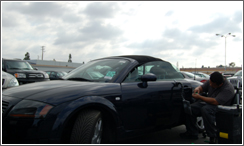 Recently I took 2 weeks of training with Keith Depaul. The results from training with Keith greatly exceeded my expectations. Previously I was on bulb and working for a franchise indoors doing PDR for 3 years and wanted out.

I have recently started my own mobile operation and things are going very well. The training with Keith has allowed me to be able to work outdoors with awesome results. I highly recommend Keith and his methods of PDR to anyone wanting to start in the industry or for advanced training.

Rick Van Luyk
Dentec
Alberta, Canada
…But the accuracy has everything to do with speed, and seeing what most people don't even realize what they are supposed to be looking for gives you the understanding to eliminate a lot of guessing and looking again and re-thinking. My speed is WAY up there now on basic dents because of PIRP.

Most dents are a duh now. Went to a Dodge store Friday to do ONE dent. Ended up doing 5 and a paint TU. Went to do one mustang this morning. Did 2 of them and another car and booked a hail job and a van crash.

The speed makes me just jump in and do it rather than book it for another time. Keith has taught me what to look for, and what to do with it, and I seldom make a mistake because of it. Knowledge = accuracy = speed = money.

Larry Harvey
Mobile Auto Dentman
Boston, MA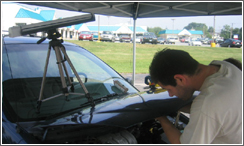 "There's no such thing as PULL". What do you mean? I asked. Chico (Emilio Miartuz) took hold at one end of the golf club and with me holding the other, he began to pull the club away from me "hold on tight" he said. As he was doing this, he asked "am I pulling or pushing"?...Huh? "Am I pulling or pushing"? he asked again. "You're pulling" I said. As he pulled, he slowly positioned his body so that eventualy his back was to me all the while asking if he was "pulling or pushing". The golf club is now over his right shoulder and he is clearly "pushing" his end of the club away from himself, yet I'm being "pulled" toward him. "Am I pulling or pushing"? he asked for the last time. I just stood there, scratching my head.

When DID pull become push? When does uncommon sense become common sense? When does unconventional wisdom become THE conventional wisdom?

Challenging your beliefs can be unsettling.

Most of what I know about PDR I learned from (A Very Large Dent Co.) and years "in the field". These techniques have served me well, but I wanted to get faster. What makes the difference between a good tech and a good, fast tech?

Economy of motion: Moving the most amount of metal with the least amount of pushes. Sound simple, right? But if that metal isn't ready to move "it aint moving" at least not without damaging the paint.

It's all about the pressure: Nature takes the path of least resistance and creating this path for your dent to take is the secret.

I believe there are only a handful of people who truly understand how to create this "path of least resistance". The very large PDR Co.'s "philosophy" is flawed, therefore their methods are flawed. Oh yeah, they use tools to push metal up and knockdowns, master tools and hammers to move metal around, but it's the "when and where" that are 180 degress out of phase. Their (Large Co.) wisdom is of the "common" variety.

Keith DePaul,s wisdom is of the UNcommon variety. Keith challenges the "establishment" with their dedication to research and development to find a "better way" and after spending time with Keith I believe he is on to something groundbreaking.

I don't care who you are or what skill level your at, spend some time with Keith and you will walk away scratching your head.

Remember, challenging your beliefs can be unsettling.

Curtis Miller
Dent Fix
Florida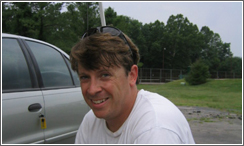 Seriously though, Keith will challenge you and will challenge you to challenge yourself.

Some of you that have taken advantage of Keith`s knowledge have maybe been pushing dents for a considerably longer period of time than I had before I took a weeks training with KDP, so maybe you were more set in your ways/methods.

Consequently, his teaching methods and the `tricks` he shows you may be more `enlightening` than they were to me. I didn`t know shnit when I went to Keith (as became apparent after day 1.lol.), so everything he showed me I thought to be `de riguer` in the dent fixing business.

The more I read these posts and talk to other dent guys, the more I realise how much he did teach me during that week.

I learned more in 5 days than I had learned in a year of pushing dents and reading every scrap of info I could find on the internet, these pages included.

Keith is not only `my` trainer, he has also become a friend.

Steve Chase
Isle of Wight, UK
Just wanted to publicly thank Keith De Paul for his crash course in PIRP today. Not only did I enjoy the intellectual side of the lesson, but also the man himself.
Coming from an educational background (I was a High School science teacher), it is nice to see someone out there thinking about PDR insruction as more than just situational lessons, but about teaching principles that are applicable to every situation. I look forward to the application of my new understanding....and of course the bottom line, making more $$$. Thanks Keith!

Mike Kolodziej
The Dent Doc
San Diego, Ca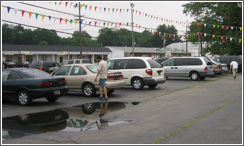 I just spend several days taking Mr. KDP's Advanced Training course. First, I would like to thank Keith for taking the time to give the course. As a 9 year plus tech I was surprised at how much there was still to learn. I was at the point in my PDR career that I was taking on advanced repairs and many would come out pretty good at least good enough to get paid. But now after the advanced training my repairs are 100% better than before.

I now have more confidence and skills to take my PDR to new levels that my competitors will find hard too match. I highly recommend for all of you seasoned techs to take KDP's Advanced Training, there is still much to learn and it is money well invested.

I also had the opportunity to train along side with Mr. Kevin Latham of Fix Your Dents from the State of Washington, a great tech and good guy, welcome to our PDR community.

Darryl Bundy
Vale Certified Master Craftsman #10037
Dent C.
Newark, CA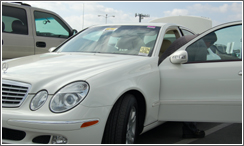 I couldn't agree with Darryl more..... KDP's class was basically what I had been looking for in going to training. I'd been to advanced training somewhere else already, but it was nothing close to what KDP's course was about. Keith's training is head and "shoulders" above the rest! (that's not a height joke, Keith!)

Darryl, thanks for being a great "host" and KDP, thanks for giving and showing us so much information. I am very happy with the training I received, and feel like I've been "let in" on information and an approach that will make a huge difference in my repairs - and already has on my "test" dent.

An essential element to good training is that the instructor wants the student to grasp the training and be successful. Keith has that quality and makes the training fun and interesting. You're a good person, Keith.

Kevin Latham
Fix Your Dents
Washington State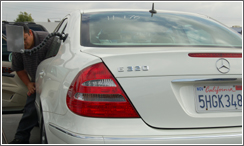 When Roberto Huayre came to us, he was concerned- he had no income, no job, and was recently injured during a workplace accident.

What Roberto DID have was determination!

He decided after years of passion for automobiles, he would learn to paint! Afterall, he had friends who were painters and they made mid 60k's to sometimes over 100k annually! He decided he could make a living on that kind of money.
So, Roberto looked us up, signed up through his vocational rehab counselor, and enrolled in our Commercial Paint Repair program with one of our bilingual instructors. After an intensified 3 week program, Roberto painted Porsches, Mercedes, and a whole host of luxury and standard vehicles.

Roberto left our school knowing all aspects of a Paint PRO, and we are confident Roberto will achieve his income goals swiftly!
Roberto Huayre
LEARN MORE ABOUT ...

DENT REMOVAL TRAINING | PDR PRE-TRAINING | CIRRICULUM