GET INFO NOW
PDR LINKS
PDR TOOLS
Paintless Dent Removal Courses
LEARN PDR TODAY
Do you want and deserve the best training available?
Would you prefer to learn the entire process of PDR from a school on one vehicle or many?
We are PASSIONATE about our students and settle for nothing less than total success!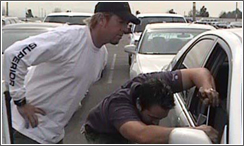 Get real world experience on multiple vehicle types with your Paintless Dent Removal Training, not just one or two..
Our students typically are pushing out dents to completion by the end of their first week, and do this on actual vehicles, not panels.
This is unheard of in the industry.
How?

PDR Pre-training. We ship you an exclusive practice regiment that prepares you for our ultra-intense course.
Intensified and focused curriculum. Small classes means you get full attention and learn fast. Large classes dilute the instructors focus and attention meaning you learn less.
Imagine being taught by a 24 year veteran Pro PDR Technician. Imagine what shortcuts and secrets you are taught. We have a training system that is proprietary and yields incredible results.
If you are looking for a classroom environment, chalkboards, and a room full of students, seek other Paintless Dent Removal schools.
If you learn best by doing something hands on, and want real world, ONE ON ONE instruction, check us out. We don't just offer successful , We GUARANTEE IT.
TOTAL VEHICLE COVERAGE
We at Superior believe words are cheap. We don't conduct training in classrooms or sterile, laboratory-like facilities with chalkboards and speeches, we teach simply by raw example.
During our PDR courses, You will see and put your hands on ALL of the standard vehicle sub-types.
The SAI PDR Training covers the ever evolving airbag locations and safety issues, as well as general panel access with specific personalities
1) SEDANS
Our Paintless Dent Repair Training covers the ever evolving airbag locations and safety issues, as well as general panel access with sedan specific personalities.

2) TRUCKS
With Trucks growing in popularity year after year, it is crucial to instruct new Dent Removal Techs on the unique characteristics of trucks, from bed sides, tailgates, extra cab sections and more. Trucks can pose some of the most difficult PDR possibilities, and we cover it.

3) SPORT UTILITY VEHICLES

4) CONVERTIBLES
Convertibles offer access in the most unusual places, and also inhibit access in other more common areas. We also cover dual pane glass on certain models (may break when pressure is applied!!)

5) MINIVANS
MINIVANS are generally very similar to SUV's, but the sliding doors are a thing of their own, and the rear hatch/door also poses unique access and knowledge to perform the pdr process. Proper Dent Removal Training on Minivans is a must!

6) SPORTSCARS/COUPES
COUPES are generally very similar to sedans, but the quarter panels are typically more challenging than the sedan. We've got you covered with our in depth and hands on training courses on the coupes and sportcars.
We now offer a course option for 100% hands on training at our Southern California, Dallas, Ohio and Florida locations. You learn first on panels then on vehicles, in a REAL WORLD environment.

Classroom and THEN real vehicles, no theories...Pure PDR in raw form, in the natural element.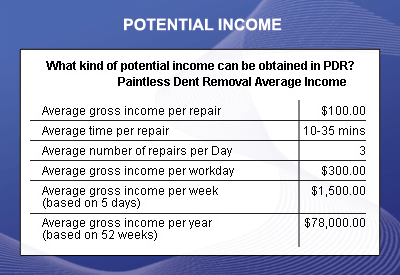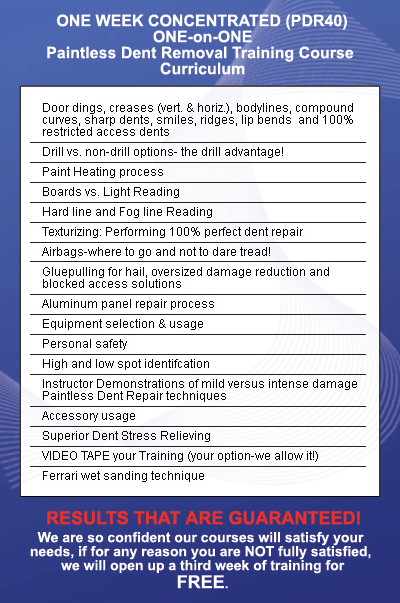 1,2 and 3 Week post training Business Itinerary
Business consultation with Brian Jump, SAI president after training has concluded in the evening and he will answer any questions you may have
Pricing and estimates (varies city to city and area!)
Insurance
Business name
Business literature(business card layouts, etc)
Taxes, records and accounting
Vehicle layout
Call 1(888)992-3464 or 1(949)305-2692
today to book your Professional Paintless Dent
Repair Training course!
PDR TRAINING VIDEOS
TRAINING TESTIMONIALS