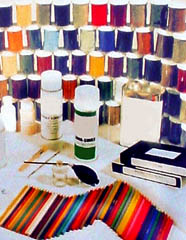 The Interior Repair Industry is a large market with massive profit potential. In addition to cars you can also renew motorcycles, rv's, trucks and more. You can save someone the cost of a seat or re-upholstry in just minutes. Virtually every car has an interior repair need, such as a rip, scuff, tear or burn. Interior Repair, when coupled with PDR or by itself is an excellent way to build an automotive reconditioning business. With our Professional Training and the SUPERIOR Interior Repair Systems, you can take advantage of a huge market.

The SUPERIOR Interior Repair Systems, along with our comprehensive manual, break it down in to easy to learn steps. The SUPERIOR System is designed for all types of damage: Tears, carpet burns, rips, scuffs, and holes. The interior products we sell have been in the industry for years and are proven to be the best quality and easiest to use for fast, lasting repairs.

For Interior Repair Packages and Pricing click HERE.

**SPECIAL* add Interior Repair to another System and get 10% off. Call for more details.